Bubbles - the smile maker!
Bubbles are always a firm favourite of the children I work with; I always get smiles and whoops of joy when they see them on the side ready to be used during my Music Time.
There are lots of ways you can use them during songs/rhymes and listening activities.  Just let your imagination run wild!  You can adapt well-known songs e.g.
Change Twinkle twinkle to a bubble theme:
Bubbles, Bubbles everywhere

Can you catch them in the air?

See them floating round and round

Quick! before they hit the ground

Bubbles, Bubbles everywhere

Can you catch them in the air?
I created the above rhyme whilst writing this blog, I'm sure you could do something similar with other well-known songs.  Please give this one a try and let me know how you get on!
I add bubbles to many songs and rhymes to give them a sensory element. Underneath the water, Rain, rain go away...
I've also seen a nursery using a tuff tray filled with bubble mixture.  Here it is on Facebook:
I also use bubbles lots during listening activities.  It is great if you're trying to create steam, soap, rain, snow, bubbles under the sea….
My particular favourite is when we listen to the song 'Under the sea' from the little mermaid.  I use my homemade parachute, that has ribbons and fishes hanging underneath, and blow bubbles underneath whilst the children float the parachute.  They also have an opportunity to dance in the bubbles too.  Here's a photo of it in action: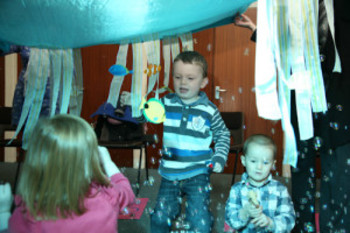 There are so many ways you can use bubbles in your Music Time.  Why not take a minute to write down all the songs and listening material you could use with bubbles?  Go on add a little sensory magic to your Music Time!
If you would like to learn more about using bubbles in your music time, please take a look at my online training Bubbles, Balloons and Balls: https://www.musicintheearlyyears.com/bubbles-balloons-and-balls 
Happy music making